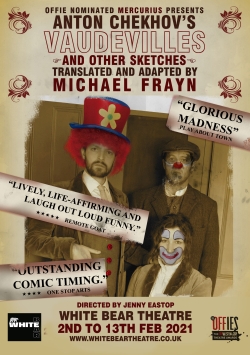 It's very difficult in the current situation to know when we might be able to move forward with productions but we are spending the time planning and readying ourselves for what the future holds.
As soon as it's possible Mercurius will announce a link-up with a new production company to co-produce an exciting new Anglo-American production.
More details will be posted as they are confirmed. Subscribe to our mailing list on the CONTACT US page for up to date information as it's announced.
Mercurius are also at the early planning stages for a tour. This will be Mercurius' first tour and we are excited about the chance to take our work to a wider audience.
In the meantime our return to Anton Chekhov's Vaudevilles, planned for February, is on hold but will be re-launched as soon as events allow. It feels only fitting that our rebirth, after a year that has been such a struggle for us all, is with the production that launched the company back in 2012.
"This production is further proof of the exceptional theatre we have in the UK"
The New Current *****