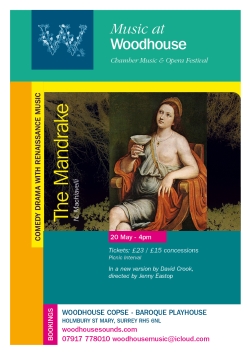 The Mandrake
by David Crook
24th May 2017 at 4pm.
Woodhouse Opera Festival
Mercurius is presenting a one off performance of Machiavelli's 1504 comedy The Mandrake in a new version by writer David Crook at the Woodhouse Opera Festival on May 20th at 4pm.
The play will be interspersed with Renaissance music played on period instruments by the Kings Waits. We're discussing the future of this project with several early music groups and are hoping to develop a production combining theatre and music / play and concert for concert venues later in the year.
Buy tickets to see this farcical comedy in a beautiful venue HERE
Directed by Jenny Eastop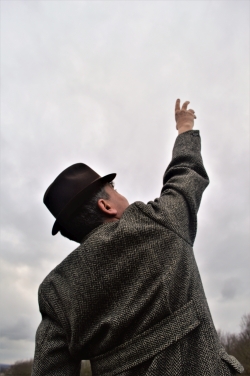 Mr Gillie
by James Bridie
25th June - 11th July 2017.
Finborough Theatre
Mercurius presents the first London production since its 1950 premiere of Mr Gillie by James Bridie, one of the West Endís most successful writers of the 1930s and 1940s, at the Finborough Theatre June 25th to July 11th 2017.
Combining lovingly drawn characters with James Bridieís trademark dry wit, this wry comedy explores the impact one individual human life can have.
Tickets are already selling fast, book them HERE
Directed by Jenny Eastop
The Recruiting Officer & Charlotte Charke
Mercurius are currently developing a play about Charlotte Charke, the celebrated 18th Century actress daughter of Colley Cibber, which will play in rep with George Farquharís The Recruiting Officer.
Alongside this, other projects are in the planning stage and will be announced in 2017.
"Eastopís sense of timing and inventive staging reveals a surety of skill... the experience is simply uplifting"
London Theatreviews