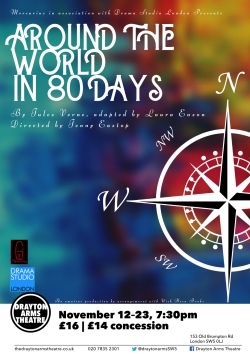 8 times Offie nominated Mercurius, in association with Drama Studio London, presents:
Around the World in 80 Days
by Jules Verne, adapted by Laura Eason
12th – 23rd November 2019 at 7.30pm.
Drayton Arms Theatre, 153 Old Brompton Road, London SW5 0LJ
1872 – Phileas Fogg wagers his fortune that he can travel around the world in 80 days. With only his trusty valet Passepartout and his stiff upper lip Fogg battles everything 19th Century international travel can throw at him - triumphant successes and crushing disasters, peril, love and ultimately an awakening to all that the world has to offer. But will he make it in time?
Fast and furious fun told at breath-taking speed by an ensemble cast playing over 50 different characters.
The iconic novel by Jules Verne is given a fresh new twist by screenwriter and playwright Laura Eason. This first played at The Bunker Theatre for 4 performances in July 2019, and transferred by popular demand for a two week run at the Drayton Arms Theatre.
Directed by Jenny Eastop
Cast: Tuhin Chisti, Lily Demir, Sam Denia, Esha Dey, Lachlan Forlong, Honey Gabriel, Oliver Lintott, Conor Rivers, James Shaw.
Photos by Bethany Hobbs: