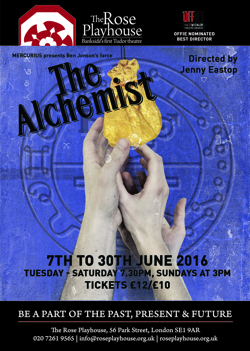 The Alchemist
by Ben Jonson
7th-30th June 2016. Tuesday to Saturday at 7.30pm, Sundays at 3pm.
The Rose Playhouse, 56 Park Street, London SE1 9AR
Coleridge:
"One of the three most perfect plots in literature"
Wealthy Lovewit, fleeing disease-ridden London, leaves his town house safely in the care of his butler Jeremy. But Jeremy grabs the chance to set up a criminal den with two fellow swindlers, promising untold riches and success to the gullible. No scheme is too ridiculous, no dupe left untricked as the greedy of London flock to be gulled. But as the three juggle their increasingly crazy schemes to keep up the money making pretence, will the bubbling cauldron of trickery explode in all their faces? And what will happen if Lovewit suddenly decides to come home?
In 1616 Ben Jonson audaciously published a Folio edition of his works. In this four hundredth anniversary year Mercurius presents his vibrant, witty farce.
Directed by Jenny Eastop
Cast: Clark Alexander, Alec Bennie, Jeremy Booth, Beth Eyre, Benjamin Garrison, Monty d'Inverno, Charlie Ryall and Peter Wicks
Reviews:

Photos by Ricky McFadden: