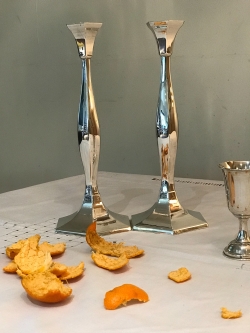 Candlesticks
by Deborah Freeman
27th September - 15th October 2022
Tuesday to Saturday at 7.30pm, Saturday matinees at 3pm
White Bear Theatre, 138 Kennington Park Road, London SE11 4DJ
Controversial, topical, challenging, sometimes comical, always thought-provoking.
Two households have been neighbours for years; the mothers - lifelong friends with frequently sparky disagreements; their children - childhood sweethearts.
But the Jewish daughter makes an astonishing announcement on the eve of Passover, while the gentile son next door sets out on his own voyage of discovery. How can their mothers cope (or not) with children who become so passionately committed to new beliefs that they may be lost to each other and to their families?
The play received an Arts Council Writing Bursary in 1993 and has been staged to great acclaim in London and Manchester. In 2022 it is even more relevant and even more contentious than 30 years ago.
Directed by Jenny Eastop
Cast: James Duddy, Sophie McMahon, Mary Tillett, Kathryn Worth
Reviews:

"A mature ensemble piece with strong performances"
London Pub Theatres
"Meticulously researched and economical"
London Theatre 1
"Interesting directorial decisions throughout"
A Youngish Perspective
"We see real distress and tension"
Sardines Magazine
"There are some fine comical moments"
Everything Theatre
"A strong cast and insightful direction"
Always Time For Theatre
"A show for anyone interested in the universal impact of religion on relationships and for anyone who loves tight-knit family dramas"
West End Evenings
"A play that brings the struggle of accepting change to light"
London Theatre
Photos by Lidia Crisafulli: