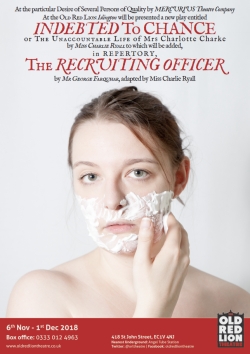 Indebted to Chance, or The Unaccountable Life of Mrs Charlotte Charke
and
The Recruiting Officer
Two full length plays in rep presented by Mercurius Theatre at the Old Red Lion
6th November - 1st December 2018.
Tuesday to Saturday at 7.30pm, Saturday & Sunday matinees at 3pm.
Indebted to Chance by Charlie Ryall
It's 1741 and Charlotte Charke, actress, writer, landlady, grocer, pig-rearer, puppet master, highwayman, transvestite and daughter of the famous actor manager Colley Cibber, is preparing for a performance of The Recruiting Officer with her company when she's arrested for debt. The play, through jumps in time and wild digressions, follows her struggle to free herself in time to perform. The irrepressible Charlotte represents the first stirrings of modern values: feminism; the existence and acknowledgment of an LGBTQ+ community and the idea of arts-based unions, with her leadership of the actor's mutiny at Drury Lane. These historic events had repercussions that directly affect us today, not only in the arts, but in society as a whole.
This play will run in repertory with a newly adapted version of George Farquhar's The Recruiting Officer, around which much of the action in Indebted to Chance revolves.
London Pub Theatres Interview with Andy Secombe
The Recruiting Officer by George Farquhar, adapted by Charlie Ryall
Shrewsbury, 2014. Captain Plume has returned from Syria under orders to recruit for the continued conflict. He is not confident that the prospect of fighting for the good of Queen and country will be reward enough for the unsuspecting locals, so he has to resort to more underhand measures. Whilst there, he encounters his old flame, Sylvia, who has rather more to test him with than he bargained for. Written in 1706, The Recruiting Officer gives a no-holds-barred account of the methods and tactics of warfare. In its scathing satire of the lengths to which those in authority will go to obtain what they want, it finds an easy home in the 21st Century.
Directed by Jenny Eastop
Cast: Lydia Bakelmun, Daniel Barry, Susannah Edgley, Beth Eyre, Benjamin Garrison, Elliot Mitchell, Charlie Ryall, Andy Secombe
Reviews - Indebted to Chance:

Reviews - The Recruiting Officer:

Photos by Chris Marchant - Indebted to Chance:

Photos by Chris Marchant - The Recruiting Officer: