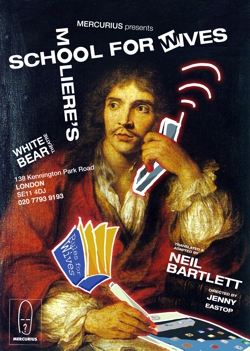 School for Wives
by Moliere (London premiere of Neil Bartlettís adaptation)
5th - 23rd March 2013, White Bear Theatre.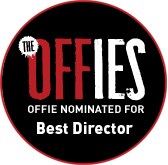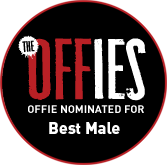 | | |
| --- | --- |
| Arnold: | My fiancee is not only pure....but simple |
| Chrysalde: | Oh I see, donít tell me Ė the girl has just left school |
| Arnold: | Heís a fool that marries; but not if sheís a fool |
Manís inhumanity to woman; control versus love; youth versus age; tricks, counter tricks, disguises and mistaken identity - Moliereís comedy, in an energetic modern version by Neil Bartlett, takes us on a riotous journey through rhyming couplets and off the wall humour for a fast-paced, frantic evening!
Pompous local Councillor Arnold has shut his young ward Agnes away for years to make sure she grows up too innocent to cheat on him.† Now sheís reached 16 heís planning the wedding, but her child-like nature has led her to open her heart in innocent friendliness to young Horace, whoís now making similar plans. †Horace turns to Arnold for help to steal Agnes away, little realising heís the very rival heís trying to fool.† Luckily Arnold has two servants who are guaranteed to create chaos with their incompetence.
| | |
| --- | --- |
| Arnold: | But why donít you love me, why donít you love me, why ?? |
| Agnes: | Oh God ! I donít see why I always get the blame; |
| | If he made me love him, you could have done the same |
Directed by Jenny Eastop
Cast: Tom Barratt, Beth Eyre, Stephen Good, Elliot Hardy, Jonathon Reid, Alexandra Ryall
Written by Moliere
Translated and adapted by Neil Bartlett
Reviews:

Photos by Dylan Browne: